Have you thought about Trex this garden and landscaping season?
Trex were the first company to manufacture composite materials to be used for decking, fencing, railing, furniture, pergola and trim.
They are the industry leader and their products have been tried and tested over and over again since they began in 1996. Here we look at the benefits of investing in Trex for your garden.
Go green
As most people are now aware plastic is a major environmental issue. Trex makes use of approximately 400 million pounds of otherwise waste plastic and wood products destined for landfill, by repurposing them and turning them into eco-friendly decking and fencing for outdoor spaces around the world. The wood in their composite decks comes from reclaimed sawdust, and the plastic used ranges from food wrappers to shopping bags.
Low maintenance and high performance
Investing in Trex decking / fencing means that you will no longer be required to maintain it every year in order to keep it looking in excellent condition. Unlike other types of decking materials Trex does not crack, break, rot, fade or stain; giving you more time to relax and enjoy your outdoor space.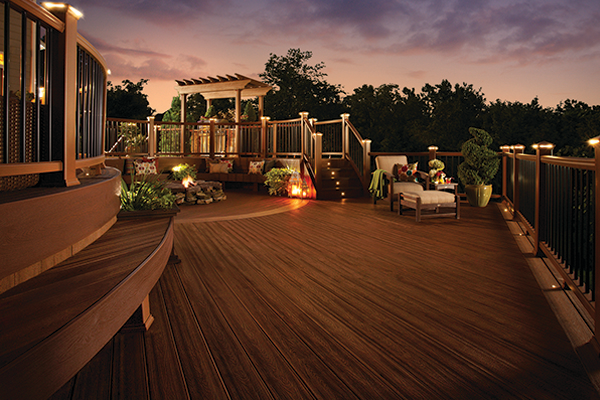 Inclusive warranty
Trex decks have a 10 year warranty for commercial spaces and a huge 25 year warranty for residential.
TrexRainescape
A fantastic way to make full use of your outdoor space is to opt for high level decking. Utilising the TrexRainescape drainage system you can then also make use of the space below your decking and benefit from a sheltered area without investing in an additional structure.
Style choice
When choosing your Trex decking, you have a choice of the Transcend collection or the Enhance collection. The Transcend collection is Trex at it's very best, including 4 premium Tropicals colours and two Classic Earth Tones. The Enhance collection is broken down into the Basics and the Naturals options, with two colour options in Basics and four colour options in Naturals.
Trex Lighting
From stairs and railing posts to deck perimeters, Trex Outdoor Lighting lifts your garden with a beautiful ambience, allowing you to enjoy your outdoor space to it's fullest at any time of the day. Trex lighting is both eye catching and functional with Trex quality through and through. It is suitable for new decks or retrofits and is simple to install. You have complete control of your energy efficient lighting via a timer and optional dimmer with remote.
Start your Trex journey with Howarth Timber and Building Supplies by visiting us in branch or searching 'Trex' on our website. If you require any further information, our helpful branch staff will be more than happy to assist.