About Keylite Roof Windows
www.keyliteroofwindows.com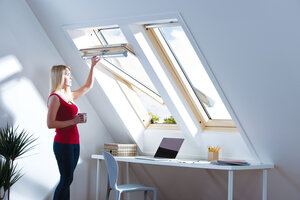 Keylite Windows was established in Cookstown, Co. Tyrone in 2001, as a spinout from The Keystone Group - the UK's market leading building lintels manufacturer.
By 2005 the company had already grown to such an extent that a new 80,000 sq ft UK distribution facility was established in Swadlincote, South Derbyshire. A year later, in 2006, Keylite set up its Keylite Polska facility, comprising a180,000sq ft premises in Zambrow, Poland.
Today, Keylite Windows is Ireland and the UK's fastest growing roof windows manufacturer, with distribution centres situated in the UK, Ireland, Holland, Denmark, Poland, and Russia.
At Howarth Timber and Building Supplies, we offer a wide range of Keylite products, including windows that are designed to be easy to open; ideal in the warmer months, whilst protecting your home from the cold during winter. Their window range includes:
Pine Windows
White Windows
Window Flashings, with options for both tile and slate roofing
Window Accessories, including Poles, Restrictors and Security Locks
Keylite also offer Loft Ladders that are easy to install and nicely compact.
Your nearest branch will be more than happy to offer any help and guidance you might need about Keylite windows, ladders and accessories.