About Premdor
www.premdor.co.uk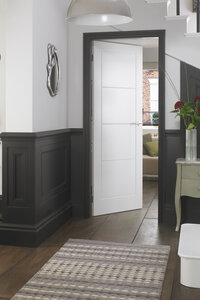 Based in Barnsley, South Yorkshire, Premdor UK, is one of the UK's leading manufacturers of timber interior and exterior doors, French and folding doors, doorsets, timber windows and cubicles and washrooms.
A division of Masonite, Premdor has one of the widest ranges of doors available in the UK and is renowned for its commitment to quality manufacturing and excellent customer service.
Premdor has nearly 90 years' experience in door and joinery manufacturing and are, still to this day, unparalleled industry leaders in interior door development and manufacture. As a result, Premdor timber interior and external doors, French and folding doors, doorsets and timber windows, as well as the Hills range of cubicles and washrooms, have perhaps become the best known joinery brands amongst construction professionals and consumers.
Through continuous innovation and a passion for both current door trends and timeless door models, Premdor offers a range of patented design doors to ensure the end-user is provided with a unique timber door like no other – all at a competitive price.
Premdor offer a wide range of doors, including:
Moulded
Paint Grade
Folding Doors
French Doors
Our range includes both glazed and unglazed, as well as fire door options.
For further advice about Premdor products, please contact your nearest branch.