Storm/Rainwater Attenuation
As more river valleys become developed with hard surfaces such as paths, roads and roofs, the volume of rainwater that runs off these surfaces increases.
This can have severe effects when enough water gathers to create flash floods.
Flash floods along with rising sea levels have been responsible for some severe flooding in recent years. This has led to rising insurance claims and leaving some areas as blackspots where insurance against flood damage cannot be obtained.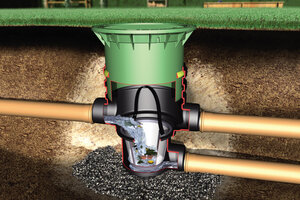 An attenuation system works when the peak inflow rate in a storm exceeds the allowed discharge into the watercourse. The excess flow has to be 'attenuated' by storing the water on the site for the duration of the storm. This is then released at, or less than, the allowed discharge rate after the storm.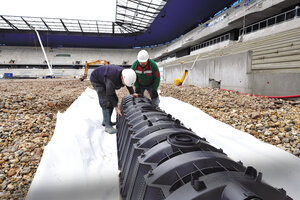 To store the excess volume and allow the correct discharge rate to go to the watercourse, a flow regulator is installed to 'drip feed' the correct maximum flow rate.
Features:
Robust design and materials
Easy to install
Large capacity
Large range to suit needs
Benefits:
Easy to install
Can be linked with separators, pump stations etc.
Low maintenance
Provides a solution to attenuation needs.
Want to purchase this product or need more information?
Contact The Green House on 0330 229 2529.