In the home, the average person uses 150 litres of water every day. Around 50% is not required to be mains water quality. A rainwater harvester works by collecting the water that falls on your roof, this water is then channelled down through the guttering and pipework into a tank, usually located underground.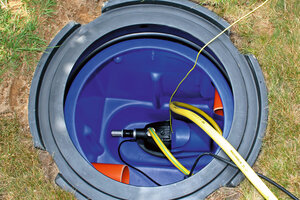 Features:
Can be buried under ground, wall mounted or enclosed in the roof to suit most environments
Utilises rainwater collected from the roof
Advanced systems available, making the system more user friendly
Simple operation
Easy installation
Benefits:
Reduces your mains water usage, saving you money
The stored water can be used in your washing machines and toilets, for watering the garden and washing cars.
Can help protect against flooding risks
Can increase the value of your property
Want to purchase this product or need more information?
Contact The GreenHouse on 0330 119 2529.