For domestic dwellings not connected to mains drainage a Sewage Treatment Plant provides a reliable, efficient and environmentally safe solution to your sewage disposal needs. It is ideal for locations where discharge is to sub-surface irrigation, or to a suitable watercourse where approved or where a septic tank will not meet the required standards.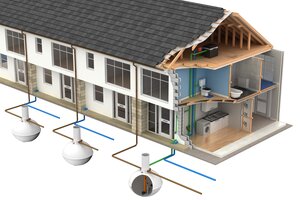 Features:
Low running costs
No odours
No noise
Large storage capacity
Legislation-compliant solutions
Benefits:
Environmentally friendly
Simple to install
Low maintenance and running costs
Provides a solution to sewage needs
Range of solutions available
Want to purchase this product or need more information?
Contact The Green House on 0330 119 2529.