Panel heaters provide an energy saving, electrically powered alternative that can save money on your bills.
This heater has already been a major success in Europe, USA, Australia and South Africa and this unique product is now available in the UK.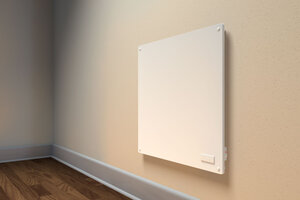 Features:
Only 60mm deep (77mm including wall fixings)
Paintable finish to match the rest of the room
Durable aluminium construction
Easy to install on hard or soft walls
Can save up to 50% on energy bills compared to conventional electric heaters
Benefits:
One of the slimmest panel radiators on the market.
Highly accurate electronic thermostat within 0.5°C.
Silent operation
Digital control programming to personalise the settings
Want to purchase this product or need more information?
Contact The Green House on 0330 119 2529.