Underfloor Heating offers a heating alternative to radiators in bathrooms, kitchens, or an entire house.
It provides a more even spread of heat in rooms than conventional radiators and can also be linked up to other renewable technologies like air source and ground source heat pumps.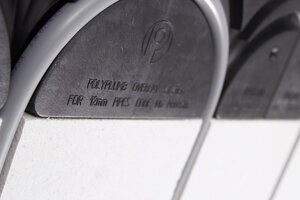 Features:
A wide range of products available, designed with specifers, installer and end-users in mind
Straightforward installation and long term performance benefits
Low maintenance
Underfloor heating prevents cold spots developing in a room which is characteristic of current radiator systems.
Benefits:
Cost to run an underfloor heating system is 15-40% less than a conventional radiator system.
Underfloor heating systems are cheaper to install than standard radiator system in a new build.
Space saving do not need to give up wall space to unsightly radiators.
Underfloor heating helps to reduce house dust mites as the moisture content is too low to allow dust mites to live, giving asthma sufferers a much better living environment.
Goes hand in hand with lower flow temperatures associated with renewable energy sources.
Want to purchase this product or need more information?
Contact The Green House on 0330 119 2529.