What is composite decking?
Composite decking also known as plastic decking is a synthetic material made from wood fibres, HDPE plastics and bonding agents. This mix is heated, formed into board shaped lengths and then cooled to form a wood-plastic composite material that is denser, stronger, and heavier than wood alone. Composite decking is increasing in popularity with homeowners due to its authentic look and low maintenance needs.
If you choose to buy timber decking, although it is a good choice, don't forget to buy stains or oil to ensure that it looks its best for longer, and keep in mind that there will be some further spend required over the lifetime of the decking to maintain it.
Decking Boards are a simple way of transforming your outdoor space into something amazing and are available in a variety of sizes in softwood and hardwood, plus thermally treated options are available.
Wider Decking Boards
Wider decking boards are the most suitable for decking a larger area. If you have a long, thin decking, putting wide boards at right angles to the long side of your decking can give the illusion of a larger decking.
Narrow Decking Boards
Opting for narrow decking boards in a smaller area can create an eye-catching feeling, you will require more decks to cover a smaller space and the eye will perceive the area to be larger than it is merely because of the amount of decking boards
Softwood is always redwood and are treated to UC3u and dedicated for use above ground.
Timber Decking TOP TIP:
The use of a CAMO Marksman Edge allows you to insert hidden deck fasteners discretely into the edge of your board, without any gaps between each plank. This means that the tool can be used on any size of decking. As such, this is an option for use on exceptionally wide boards, however, please note that there won't be a spacer to guide the user, therefore if you would prefer the use of a spacer, we recommend the CAMO Wide Board Marksman Pro
Where to use Timber Decking Boards
Concrete. Decking Boards are a great solution for covering concrete that has been damaged and become unsightly over a period and, decking boards are a great deal nicer.
Problem Solving
If your garden is renowned for being boggy or generally damp, it's easy to not want to spend time in it because
garden furniture
is likely to sink into it. However, decking can help raise your outdoor space above it.
The same goes if you have a particularly uneven garden perhaps because you live on a hill. Decking can be used to create an area that is level for tables and chairs.
Grooved Boards are an ideal option if you are placing them by a pool or water feature, as the grooves allow water to run-off quickly. However, it is important to note that they are only effective for this purpose if they are used in shorter lengths. If you intend/need to use longer decking lengths, Smooth Boards are a better option.
At Howarth Timber & Building Supplies we have a wide range of decking boards, as well as a variety of C16 and C24 timbers that can be used as part of your project. We also offer a wide selection of composite decking, whilst our Garden & Landscaping range will help you to complete your garden project.
Frequently Asked Questions
How much are decking boards?
A garden deck project will typically cost between £1,000 and £2,000. The cost will vary depending on the type of materials you select, the size of the decking and the location. The four most popular decking boards include softwood, hardwood, composite and antislip timber.
How wide are decking boards?
The most common decking widths are 90mm to 150mm, with 120mm and 140mm in between. The width option you choose for your project can make a big impact in the ultimate effect, so get creative to achieve the best look for your decking while staying within your budget.
How long does deck last?
You can anticipate your timber decking to last at least 15 years and up to 30 years if you use suitable materials and follow installation and maintenance guidance. When it comes to decking maintenance, the most important things to remember are to use properly treated deck boards, use appropriate deck fasteners, and keep your deck clean. Install your timer deck appropriately and it will last a long time.
What gap should you leave between decking boards?
Leave 5mm gaps between deck planks while installing them. A gap at the end of the boards must be considered, the recommended gap is around 4.5mm to 6mm. This gap will allow the deck to breathe, provide drainage, and make cleaning easier. You must leave gaps between your deck boards so they can compress and expand. They can cause friction if they are too close to each other, which can harm the boards. It can also cause the boards to bend, cup, or warp. Leaving spaces between the gaps can help with drainage, reducing the likelihood of water gathering on your patio. You may also limit the risk of moisture damage, mould, and mildew growth by having good drainage.
What is the difference between Hardwood and Softwood?
Hardwoods are so-called, as they are sourced from trees that grow slowly, meaning the wood has more time to mature. In comparison, Softwoods are sourced from fast-growing trees, but this doesn't mean softwoods can't be tough too. Hardwood decking is often a popular choice because hardwoods are typically more resilient against rot and degeneration. However, softwood decking boards are also a great choice with a little extra maintenance.
Difference Between Smooth and Grooved Deck Boards
A lot of companies will tell you that Grooved Deck Boards are the better option because they offer more slip resistance. However, this is untrue: Grooved Boards offer no advantage – in terms of slippage – over Smooth ones.
How many decking boards do I need?
To begin, calculate the area of your decking in square metres. This is quite straightforward if your decking is square or rectangular. Simply double the length and width of your planned decking space by two. Then put the area of all of these together to get your total. After that, measure the width of the decking boards you intend to use. It's a good idea to add roughly 5mm to the board width to account for the minor gaps between each decking board. Then, take this measurement and divide it by the length of the decking planks you intend to buy. You now know how many decking boards you'll need.
What direction do you lay decking boards?
You need to lay decking boards in a diagonal direction, as this gives them a very noticeable look.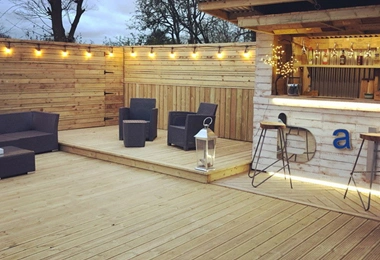 Looking for inspiration? Discover how to build a deck that perfectly suits you with so many options to suit outdoor spaces of any size and shape.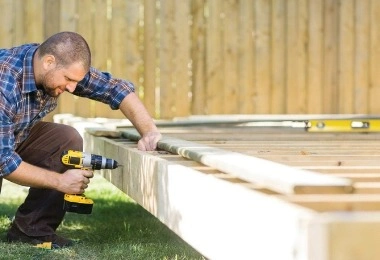 A step by step guide on how to build a deck.