Skirting Board
What is skirting board?
Skirting board is a strip that is placed at the bottom of a wall. Standing at ankle height, it hides the gap that exists where the wall meets the floor, whilst protecting the wall from knocks by feet and furniture. Available in a variety of finishes including redwood, oak and primed MDF skirting board, many of which are unfinished allowing you to add the best gloss to achieve the look you want.
Types of skirting
Wooden skirting board is available in a wide range of profiles giving you the freedom to choose the right one to suit your home whether it has a modern or classic style and/or you are looking for something simple or decorative, including:
Square Edge. This classic style is perfect if you are looking for something simple
Bullnose. The top edge is rounded
Chamfered. A slight angle has been cut off the top
Ogee. With nice curves, the Ogee is great if you want something decorative as well as practical
Torus. Like the Ogee, the Torus has decorative curves for an attractive finish
Ovolo. The subtle curve to the Ovolo adds a nice finishing touch that is discreet
Pencil. A slightly rounded top edge
Lambs Tongue. Features a subtle decorative wave
Reversible or dual skirting boards feature two profiles; one on each side. Choosing a dual board boosts your options to use either style for your project.
If a profile with a gap is placed against the wall, the gap can be used to run wiring along. This is ideal for installing phone cables or extensions for electrical devices that you wish to place somewhere that is not near a plug socket. Using skirting like this removes the need for expensive installation work.
Frequently Asked Questions
What are skirting boards used for?
Skirting boards are boards that run around the lowest part of an interior wall. They can be used for purely decorative purposes and can feature mouldings and intricate chip carpentry.
Do you need skirting boards?
Skirting boards are necessary to form the junctions between the construction materials and hide untidy joins. They also protect the bottom of the wall from the general wear and tear from the foot traffic expected in a normal home.
Do you put skirting boards before tiling?
Tiling before skirts is always the best way to achieve the best finish.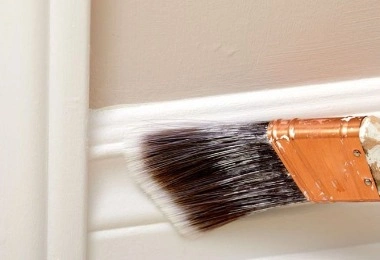 How to paint skirting board
Where do you start when it comes to painting your skirting boards? Click on this article to find out more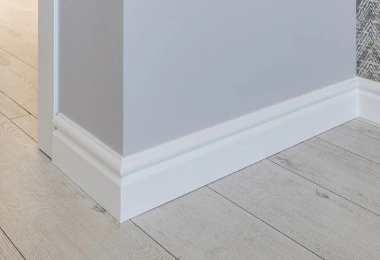 How to fit skirting board
An article outlining helpful tips and advice on how to fit your skirting boards - read more to find out