Artificial Grass is a garden and landscaping product developed to look and feel like naturally grown turf. Over the years artificial grass has greatly improved and we are proud to offer only the best quality artificial grass, including our bestselling Namgrass brand of artificial grass.
There are several fantastic benefits of artificial grass including:
Low Maintenance
Artificial grass is very low maintenance as it does not grow, fade in the sun, or wilt and die after extreme weather such as heavy snowfall. It will always keep its beautiful green colour and attractive appearance. You can simply enjoy the look and feel of your perfectly manicured lawn without the need for watering, mowing, digging, or weeding.
Attractive appearance
Artificial grass comes in a range of styles, lengths, textures, and shades of green to suit your personal taste. The artificial grass available at Howarth Timber & Building Supplies is of the best quality, ensuring that it will have an attractive appearance that blends naturally with your garden or outdoor space.
Good for hayfever sufferers
Artificial grass, unlike natural lawns, does not release pollen into the atmosphere, making it perfect for hayfever sufferers who would still like to enjoy a beautiful green lawn.
Safe
Artificial grass is safe for use by all members of the house, including children or pets.
Artificial grass is suitable for a wide range of situations, including:
Domestic Gardens
Artificial grass is suitable for all domestic gardens. It is particularly ideal for anyone who cannot maintain a natural lawn.
Schools, Nurseries and Play Areas
The soft feel of artificial grass makes it great for supporting children against harm from trips or falls, and any mess can be easily cleaned away with water.
Swimming Pools
An artificial lawn is beneficial around a swimming pool as there is no soil, which can create mud and mess when combined with water from the pool.
Namgrass artificial grass is renowned for being as close to natural as artificial grass can be. It is available in a variety of styles to suit different tastes and requirements, including pet friendly and sports friendly. Before making your purchase, it is also important to consider the surface area requiring coverage to allow you to calculate the artificial grass price. Being durable and long lasting, artificial grass is a brilliant investment in your property. The best way to look after the integrity of your grass while in storage or in transit is to keep it as an artificial grass roll.
There are artificial lawn solutions for both large and small outdoor spaces, and a range of accessories to help with installation and maintenance including sand for artificial grass. For further guidance, don't hesitate to contact your friendly Howarth branch.
Frequently Asked Questions
How much is artificial grass?
At Howarth, our more affordable Namgrass vision artificial grass starts at £21.86 per square metre. We also offer Namgrass Serenity which is our more high-end product for £30.92 per 37mm.
Can you lay artificial grass on slabs?
Yes, artificial grass can be installed on top of plain old concrete, block paving and patio paving slabs.
Is artificial grass good for dogs?
Pets can use the lawn with artificial turf just as they would with natural grass. It is extremely safe for pets to use due to its non-toxic nature.
How long does artificial grass last?
Artificial grass will give you up to 20 years with maintenance. It will not fade or flatten as it is UV stabilised and will retain its colour and integrity season after season.
What is the best artificial grass?
Namgrass is the most popular and well-recommend popular type of artificial grass.
Can you lay artificial grass on concrete?
You can lay artificial grass on concrete.
What do you put under artificial grass?
You will need to install a sub-base, which is a layer of aggregates that can be installed beneath your fake grass to create a level, stable and structured surface for your grass to sit on top of. You will also need to add a shock pad underneath the artificial grass, which can add extra cushioning and protection against accidental falls and slips.
Does artificial grass get hot?
When the summer season comes, artificial grass will heat up more than natural grass and maintain a higher temperature.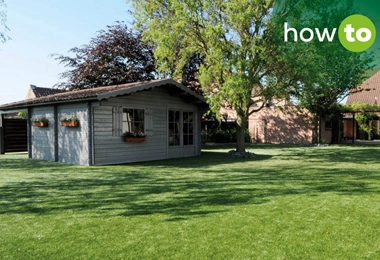 A step by step guide on how to lay artificial grass. Start your garden project today.
There are a few things to consider when buying artificial grass, read our guide to find out more