What is shiplap cladding?
Shiplap cladding consists of wooden panels that overlap and create a flat surface that is much more weather resistant than the overlap construction method.
What is cladding used for
Timber Cladding is suitable for both internal and external use on both domestic and commercial properties and there is a wide range of reasons you might opt for cladding:
Cladding benefits:
Appearance. Timber is a popular choice because of its naturally attractive appearance from the warm colouring to the distinctive character of its grain.
Weather Resistance. Designed to reinforce a building from the elements, the wood will stop rainwater and winds from penetrating.
Thermal Insulation. It will also help to keep a building warmer which will reduce your overall energy consumption.
Acoustic Insulation. Timber acts as a natural barrier because it absorbs sounds; helping to reduce the levels of noise passing through the cladding.
Environmentally Friendly. All our timber cladding is manufactured from timber which is sourced sustainably. Plus, when it needs replacing, timber can be recycled. Timber also has a low carbon footprint, requiring less energy than any other material to produce.
Types of Cladding:
We offer a range of high-quality timber cladding board options available in a variety of timber species:
Cedar
Redwood
Larch
Pine
Ash

PTGV:

This traditional style of timber cladding features a tongue and groove profile with a v-joint and has a planed finish. It is popular because of the way each board interlocks creating a system that is reliable and resilient.

Shiplap Cladding:

This is like tongue and groove, in that the boards click together to create a reliable connection that won't move; however, shiplap differs in that it has a slight slant to the profile that allows rainwater to run off it easily.

Howarth Timber & Building Supplies are members of the TDCA (Timber Decking and Cladding Association). This means that we are wholly committed to supplying the highest quality and sustainable timber cladding products. This includes innovative solutions such as the ArborClad range. Working with leading manufacturers, the ArborClad range is perfect for any application, from domestic and commercial to refurbishment.

Confused about which type to use? Your nearest branch will be happy to answer any questions that you have.
Frequently Asked Questions
How much cladding do I need?
To work out how much cladding you will need, work out your area in square metres, then calculate the linear metres. This will then help you decide how many boards you need.
How to fit tongue & groove cladding?
To install tongue and groove cladding, the first thing you need to do is to decide how high up your wall you want your panelling to go, then, cut some battens to the overall length and fix to the wall top and bottom. Next, cut the individual lengths of the panelling to the decided height and then pin the panelling to the batons. Continue this until every panel is straight and even.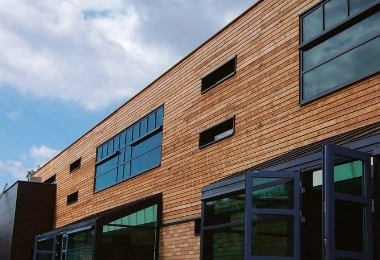 Here we take a look at some examples of cladding used for various businesses.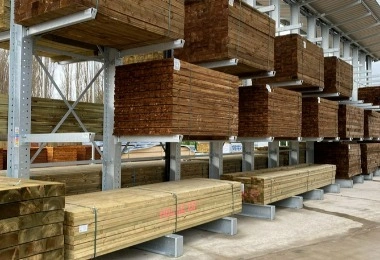 Timber industry faces shortages in 2021
The Timber Trade Federation (TTF) has highlighted concerning outcomes of the 2021 Timber supply chain, as the industry faces timber shortages.