Decking is a raised, flat surface similar to a floor, and usually constructed outdoors. Decking is often connected to a building to act as a patio area extending the property to the outdoors. Timber or Composite Decking is popular as the base of a seating area for both commercial and domestic outdoor spaces. Easily transform your outdoor space or add an attractive ultimate finishing touch to a landscaping project with timber decking boards or composite decking.
Decking Boards
Timber decking has a rustic and traditional look and feel. Timber decking boards are manufactured from high quality softwood or hardwood. Decking timber is also available as treated, which will provide extra protection and a longer life for your decking. At Howarth we have an extensive range of decking boards, allowing plenty of choice of finish, look, feel, and pattern.
Composite Decking
Composite decking is a high quality, low maintenance decking option, providing a long-lasting space for entertaining or relaxing in comfort, with very little maintenance required. Available in a wide range of beautiful colours and styles, you will never need to stain or paint your composite decking as it will maintain its beautiful appearance for years to come. Trex composite decking is made of 95% recycled materials, is stain and rot resistant, rich in colour and has a deep timber grain in its protective outer shell.
Decking Components
Decking components include aspects of decking such as decking spindles, newels, decking rails, and caps, to finish your decking and make your garden look complete. They're available in a variety of high-quality sizes and styles to suit every decking project.
Fixings
Decking fixings are an important part of keeping your decking secure and structurally sound. These include screws, clips, corner braces, mending lasts, brackets and more.
Finishes
Finishes such as preservatives and treatments are crucial to keeping your timber decking looking and feeling great for a long time. At Howarth we have an extensive range of finishes designed to prolong the lifespan of your decking whilst improving the overall appearance of the decking timber.
Decking Kits
Decking kits are designed to make installing decking easier! They contain everything you need to construct a beautiful decked area, including decking boards, screws, metal brackets, joist hangers and more.
Decking is most commonly used as part of your garden landscaping, other uses include:
Extending the living area of your home. This type of decking looks particularly attractive with patio doors, such as French Doors, joining the interior and exterior spaces together.
Creating an alternative patio area. Concrete slabs are a popular choice for patios, however decking may suit certain spaces better.
Create a clean and stable area surrounding swimming pools or water features.
If you are working on a new project or renovating an existing outdoor space, pop into your local Howarth branch or browse our website. We offer a wide range of decking products and accessories designed to make the project easier for you.
Frequently Asked Questions
What timber do I need for decking?
Pressure-treated timber is one of the best options for decking frames because of its affordability.
How many deck boards do I need?
You'll need to calculate the area of the deck in m2 to figure out how many deck boards you'll need. To do this, multiply your deck's length by its width. For example: The length of your deck will be 5 metres, and the width will be 4 metres. 5 x 4 = 20, so the total area of your deck will be 20m2. Then you'll need to figure out how big a single board is. You must double the board's length by its width to achieve this. Finally, divide the deck's area by the area of the deck to figure how much decking you'll need to build your new deck.
What size wood for decking frame?
The most used joist sizes for decking are 2x6, 2x8, 2x10.
Do you need planning permission for decking?
You may need planning permission for decking if it covers more than fifty percent of your garden or is installed more than 30cm off the ground.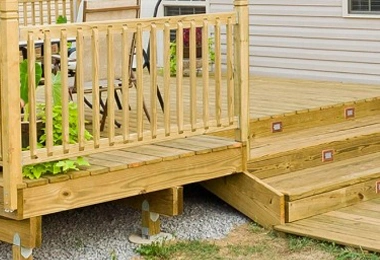 How to build a raised deck
Need help building a raised deck? We've got you covered with a full step by step guide.