Garden sheds and garden buildings make excellent storage options or ways of increasing sheltered space on your property. Whether you need somewhere to store garden tools, an office space, a workout space, or a playhouse, Howarth have a garden building for you.
Garden buildings can fulfil a range of requirements including:
-Garden storage space
-Creating an extra room for use as a garden office or workshop
-A safe place for children to play
-Space for relaxing or entertaining in, whatever the great British weather brings!
Garden storage shed
One of the most popular garden buildings in the UK is the traditional
garden storage shed
. A garden storage shed is perfect for storing gardening tools and equipment, and even garden furniture. Keeping such items inside a storage shed will protect them from damage that may be caused if they were left outside. It will also keep your garden tidy and items securely out of sight.
Our timber garden buildings are high quality, attractive, and add personality and interest to your outdoor space.
Our range includes:
-Garden sheds and storage with single or double doors
-Summerhouses in a variety of shapes and sizes
-Playhouses for children
-Log cabins that offer plenty of space and look stunning
Shed Bases
Don't forget that a sturdy shed needs a good base. Easy options include paving stones or EcoBase Fastfit Garden Building Base Kits.
For more information regarding planning permission and outbuildings contact your local authority.
Browse our garden buildings and garden storage range online or contact your local Howarth branch who will be happy to help.
Frequently Asked Questions
Will I need planning permission for my garden building?
Garden Timber Buildings are permitted without the need for planning permission provided they follow a range of conditions, including: It must be single-storey with a maximum overall height of four metres if the building has a dual pitched roof. Any other roof type can have a maximum overall height of three metres. The eaves of the building cannot be any more than 2.5 metres in height. The building cannot include a balcony, veranda or raised platform. Less than half of the available land surrounding the property can be filled with outbuildings.
What type of garden shed is best?
You can have a range of different materials for sheds, such as wooden, plastic and metal. Wood is the traditional type of shed and is very versatile. You can paint, stain, or treat your wooden shed to reflect or contrast with its surroundings. However, it requires a lot of upkeep, as wood will rot if it isn't adequately protected. As for plastic sheds, they require little to no maintenance. While you cannot change the colour yourself, they are available in a wide range of colours such as natural, green, or brown. At Howarth, we supply Albany and forest green garden sheds, which are some of our bestselling garden sheds due to how durable they are. Our Norfolk Albany shed is our most recommended, with plenty of room inside for storing gardening equipment.
Should a shed base be bigger than a shed?
Yes, the base should be built bigger than your shed. On each product page, the shed base dimensions can be seen on the 'dimensions' tab. These dimensions are the recommended size that your shed base should be built to. It should also be a minimum of 50mm/2" inch. However, if you are planning on installing a ground anchor, your shed base should be a minimum of 100mm/4" thick.
What type of wood are log cabins made from?
Howarth provide a wide range of sheds from Forest Garden and are made from Treated Timber. Treated timber is a reliable material as it is very strong and durable.
What is the best preserver for log cabins?
At Howarth, our best log cabins preserver is the Ronseal 5 litre clear total wood preserver. If you are wanting to browse through the range of wood preserves online, you can access them via our website in the wood care category under tools and finishes.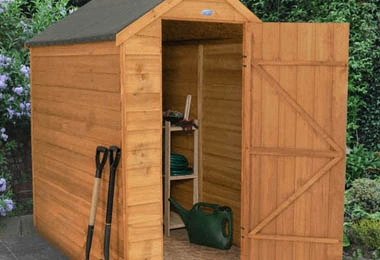 Looking for a new garden shed, but confused by the number of options? Our guide is here to help.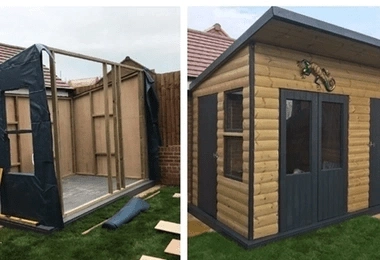 Delve into Tom Wild's summer house project, created using materials from Howarth Timber & Building Supplies.