Paving
Paving Slabs are a popular component in many gardens and outdoor spaces, whether decorative, functional as a sturdy foundation for a shed, or as an area for outdoor activities, getting the right product is important to create a space that suits your tastes and needs.
At Howarth Timber & Building Supplies, we have a variety of high-quality paving options including:
Concrete Paving Slabs
Concrete paving slabs are a man-made paving manufactured from cement, aggregate, sand, and water to create a durable, long lasting slab. Each one has a neat and uniform look.
Natural Stone Paving
Natural stone paving slabs are made from mined or quarried natural stone from around the world, meaning that each paving slab is as unique as nature intended.
Porcelain Paving
Porcelain paving is a luxurious and aesthetically pleasing choice of paving. Not only is porcelain paving attractive, but it is low maintenance, slip resistant, and stain resistant, making it perfect for entertaining in the garden.
Block Paving
Block paving is a decorative way of creating hardstanding from brick-like blocks. It is a popular choice for driveways and paths as it is strong and durable.
Low Maintenance Garden Ideas
Garden paving is a low maintenance landscaping choice, requiring very little upkeep. Simple weeding between the paving slabs, sweeping, and power washing will keep your paving looking fantastic. Decorative patios are an extension of a home. During the summer months, a patio provides space for children to play, for outdoor dining, or entertaining your guests. Therefore, getting the right patio design for your garden is just as important as choosing the right flooring for your kitchen.
Choosing the right paving slabs can be confusing as there are several concrete and natural stone paving slab options available, but here are a few things to consider:
What kind of look are you going for? Think about a paving that will complement the exterior of your home or any external brickwork. You may also wish to consider what materials are commonly used in the area that you live in. At Howarth, we offer a wide range of options including natural stone paving such as sandstone paving, as well as concrete paving including flags, setts, and block paving.
What are you planning to use the area for? If you are paving to create an area for al fresco dining, paving slabs with an even surface will be best for placing a table and chairs on. On the other hand, if you want to create a focal point, you might want to choose paving in interesting colours and/or textures.
Do you want to create a pattern with paving stones? Here are the most popular paving patterns:
Stacked: For this design, all the slabs will be square and the same size, laid in a grid formation with straight lines. This is a simple, easy to achieve design.
Stretched: Paving slabs are laid end-to-end in what is known as a stretched sequence – a design that is often used in brick walls. This patio pattern can be completed with slabs that are the same size, or by alternating between slabs that are the same length, but have different widths, to create a more striking look.
Random: Typically created with slabs of three different dimensions, for example 100 x 100, 50 x 50 and 25 x 25, and mixed together in a pattern that looks random because of the varying slab sizes. Paving project packs from Howarth are perfect for this paving style.
Circle: This is one of the more intricate layouts for a patio and is popular amongst gardeners who want their patio to be the main feature, or at least part of it perhaps alongside aggregates such as gravel, pebbles, or regional stones.
View our wide selection of concrete and natural stone paving slabs online or at your local Howarth branch.
Frequently Asked Questions
Can you paint paving slabs?
Yes, you can paint paving slabs. If you are interested in a particular colour, we have a wide variety of paving options available in different colours that you can purchase online or in store.
How many paving slabs do I need?
To work out how many paving slabs you will need, we recommend measuring the width and length of the area that you're looking to pave and multiply the two numbers together. This will then give you your area to pave.
How much does paving cost?
The cost of paving depends on the size of the area. If you'd like to pave up to 40 square metres, it will cost approximately £100 per square metre. 40 to 100 square metres would cost approximately £85 per square metre, and 100+ square metres would cost approximately £75.
Is decking cheaper than paving?
Decking is more affordable than paving, but paving slabs last longer and require little to-no maintenance.
How to remove dry cement from paving slabs.
To remove dry cement from paving slabs, you can use brick acid. But make sure to wear protective clothing like gloves and glasses.
Can you put a shed on paving slabs?
Yes, you can put a shed on top of paving slabs.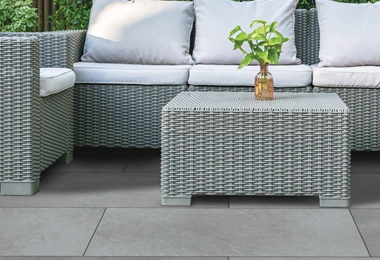 Choosing the Right Paving For Your Garden
Paving can make or break your outdoor space. This simple guide will help you to choose the right paving for your garden.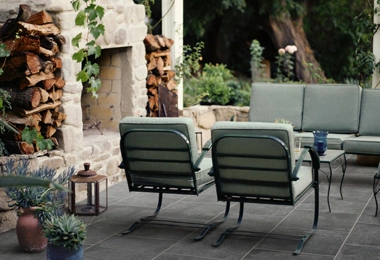 Patio Design Ideas for your garden
Find some inspiration with our blog patio design ideas for your garden.
Customer inspiration