We have everything you need for your gardening & landscaping projects, both big and small. From essentials like fencing, decking and garden furniture to the decorative aggregate, paving and garden lighting that provide the perfect finishing touches, you'll find inspiration to create your own unique outdoor space. Whether you're planning a new garden, redesigning an area or maintaining an existing space, our range of gardening and landscaping supplies features everything you'll need to bring your vision to life and maintain it over time. The cost of garden landscaping can be off putting, but our range has something to suit all price points.
Frequently Asked Questions
How to care for a new lawn
To care for a new lawn, water the grass regularly, keep off the grass until it has rooted in, mow little and often, top up soil nutrient levels to encourage strong root growth, and don't allow fallen leaves or debris to accumulate on your new lawn.
What is composite decking?
Composite decking is a man-made building product made up of a mix of wood fibres, plastics, and a small amount of bonding agents. It is an outdoor flooring solution that is engineered to better withstand the damaging effects of weathering.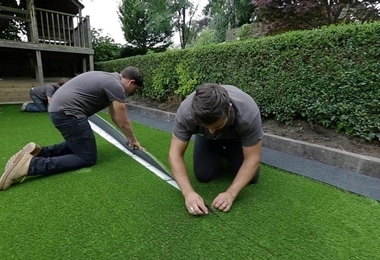 How to lay artificial grass
Our step by step guide on how to lay artificial grass. Start your garden project today!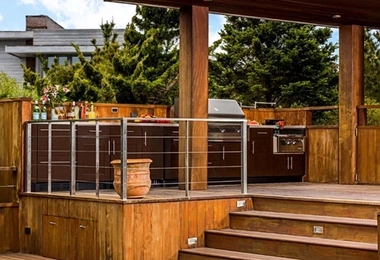 Discover how to build a deck that perfectly suits you with so many options to suit outdoor spaces of any size and shape.
What's the difference between gardening and landscaping?
Gardening refers specifically to plants and including planning, planting, maintenance, weeding, harvesting and replacing. Our range of gardening products includes top soil, bark mulch, turf, composters and planters available in corner, rectangular, square and hexagonal options. Landscaping is more about the overall design of the outdoor space and how it can be used to its full potential with decorative elements including paving, decking, fencing, gates & railings, pergolas and garden lighting. 
It's also important to think about keeping tools and other gardening and landscaping supplies safe and protected from the elements, and our range of treated and untreated timber garden sheds, arbours and log cabins has a solution for every garden. Our range also includes the tools required for gardening and landscaping jobs like shovels, wheelbarrows, post hole diggers and PVC hoses.