What is the Green Homes Grant?
On Tuesday 4 August the Government published plans for a new Green Homes Grant. The £2 billion grant aims to encourage homeowners to make their homes more energy efficient, benefitting the environment as well as protecting and creating jobs.
In Summary
The Government urges tradespeople to sign up for TrustMark accreditation in a drive to support over 100,000 jobs through a new energy efficiency scheme
New Green Homes Grant will give over 600,000 homeowners in England up to £10,000 to install insulation, heat pumps, draft proofing and more to help households cut energy bills
The funding will be in the form of vouchers worth up to £5,000 for homeowners. Low income households can apply for vouchers covering 100% of the cost of the improvements, up to a maximum of £10,000.
The grant will make it more affordable for homeowners (including owner occupiers and social/private landlords) to make improvements to their home that will reduce energy bills and their carbon footprint, ranging from improving insulation, to installing heat pumps or solar energy. In addition they can also use the vouchers to make improvements to windows, doors and heating controls.
To be eligible to take on jobs under the grant, tradespeople must be registered with TrustMark or Microgeneration Certificate Scheme (MCS). Once accepted for the grant, homeowners will choose from a list of TrustMark or MCS accredited tradespeople in their local area. To be included in the list and have new jobs come your way, make sure you are registered and accredited with one of these two enterprises.
From the end of August advice will be available to homeowners from the Simple Energy Advice Service on what green improvements they could benefit from in order to make their home more energy efficient. Vouchers will start to be issued at the end of September, then work can commence.
The Government will be providing more information on how the scheme will work including how homeowners can use the vouchers and how tradespeople can claim the costs back. Make sure you follow us on social media for further updates.
https://www.gov.uk/government/news/quality-assurance-at-heart-of-new-2-billion-green-homes-grants
Tell us when you've regsitered via email! We want to know if you are TrustMark registered. If you are we can help raise awareness. We'll share your details for any customers looking for TrustMark registered contractors.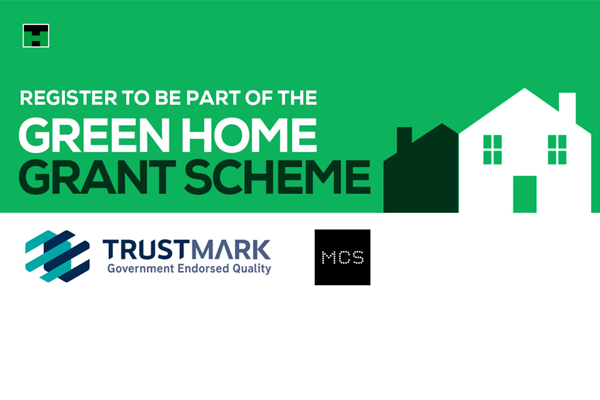 2020 update
Since its launch last year there have been some changes to the Green Homes Grant to reduce barriers for entry, make it clearer, and fairer for all:
The tradesperson carrying out the work to make homes more energy efficient no longer has to be registered with TrustMark and PAS or MCS certified. The work must be carried out in line with the relevant PAS or MCS requirements regarding subcontracting.
The voucher can now be redeemed after it has expired if the customer fails to comply with reasonable terms on the Installer-Customer contract, and consequently prevents the tradesperson from completing the installation at least 7 days before the voucher expires.
The tradesperson is no longer permitted to include a charge for providing a quote in the overall cost.
A deposit may only be charged to low income customers against additional works to be carried out in addition to the work covered by the grant.
A customer contribution to the scheme, if required, is a part of the voucher's eligibility. The voucher will be cancelled if the tradesperson pays it themselves, accepts non-payment or provides cashback as an incentive.
An application must only be submitted by the customer, and never by the installer.
Recent Posts
Timber Development UK ruled over a pan-European conference with the top timber and sawmilling assoc

In the UK, there are various typical door sizes, and knowing measurements can be diffi