Plasterboard
Plasterboard, often referred to as drywall, is made up of two layers that are wedged together with gypsum. Plasterboard is a popular choice due to how lightweight and affordable it is.
Modern plasterboards are suitable for use in a wide variety of projects, including:
To control moisture: Ideal for use in areas that are likely to experience moisture such as steam on a regular basis. For example, bathrooms, kitchens, etc. This is because we can specifically offer moisture-resistant plasterboard, which essentially will not absorb any moisture at all.
Thermal heating in buildings: Often used in buildings with solid walls that have not been built with the same amount of insulation as cavity walls.
Restricting sound: We offer soundproof plasterboard, as they have a higher density and can be used as part of a larger soundproofing system, which will ultimately help reduce noise transmissions through the ceilings.
Fire resistance: Their sole purpose is to help increase the fire resistance of the area. Fire resistant plasterboards are manufactured from a variety of materials, including fire-resistant fillers and fibres.
Soundproofing: Acoustic plasterboard is a great product designed for use in ceiling and wall lining. They offer higher sound insulation by absorbing and blocking soundwaves.
Plasterboards are designed to provide durability with a high-quality lining for walls and ceilings, as well as lift shafts and stairwells, and corridors and auditoria.
Our range of plasterboard products also includes coving, which is a strip-type of moulding that is typically used decoratively. Coving has a smooth surface and can be used to hide the join between the different coloured wall and ceiling, adding character to your rooms. For further information and expert advice regarding plasterboard, please contact your friendly local Howarth branch.
Frequently Asked Questions
Can you paint plasterboard?
Yes, you can paint on plasterboard.
Can you tile onto plasterboard?
Yes, you can. However, you will need to consider a few factors, such as the condition of your plasterboard and the weight of your tiles.
How thick is plasterboard?
Plasterboard is usually between 9.5mm and 12.5mm thick.
How much is plasterboard?
Approximately, plasterboard is around £4-£5 per panel.
How much weight can plasterboard hold?
Your plasterboard will be able to take as much weight as you can hang on it.
Which drill bit shall I use for plasterboard?
You can use a masonry bit to use to drill into plasterboard.
What is plasterboard made of?
Plasterboard is made from gypsum processed into a board and usually faced with a paper covering.
Is plasterboard fireproof?
Yes, plasterboard is fireproof.
How to use plasterboard on a ceiling or wall
This guide will help any DIYer to be able to complete a plastering job efficiently!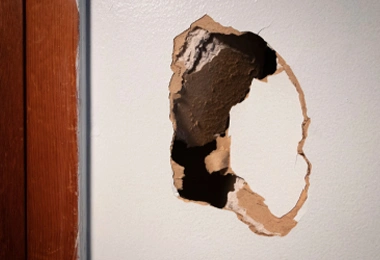 How to fix a hole in plasterboard
A guide on how to fix a hole in your plasterboard and what tools you will need for your project!