Patio Design Ideas for your Garden
A patio provides an ideal place for enjoying outdoor experiences such as al fresco dining and can be enhanced with items such as garden furniture and fire pits. It also makes a great place for you to create memories with friends and family!

Once you have chosen the paving that you want, (if you need help with this, check out our Choosing the Right Paving for Your Garden blog post), the next step is to figure out the overall garden design and how paving is going to fit in with it. Getting this right is crucial, not only because you want to enjoy your outdoor space, but also because it will add value to your property if you choose to sell in the future.
Planning your space
Chances are that if you are thinking about adding a patio, you have at least a rough idea of where you want it to be installed in your garden. It's essential that you plan this space wisely, so you'll want to take into consideration the following things:
How much of your garden do you want to be paved; smaller gardens can benefit from being fully paved as it can make them look bigger, however, if you have a larger space to work with, you might want to have a think about how much of your garden you'd like to be paved, and how much you'd like to keep for other designs such as lawns, flower beds and decking etc.
Will the patio be located right outside your back door? If not, how will you be led to it? You may want this to be for decorative or practical purposes.
Do you need to consider existing flower beds? Maybe you want to add new ones?
Are there any trees that might affect your patio? Either with over-hanging branches or roots that may cause damage to your paving over time?
Be aware that if there are any trees that might need removing, you may need to apply for planning permission if you live in a conservation area, so always do your research.
Do you want to add lighting? If so, how will this be powered? If you need to run cables, this should be done prior to laying your paving.
Once you know where the patio is going to be situated, measure the area to give you an idea of how much paving you will need to purchase.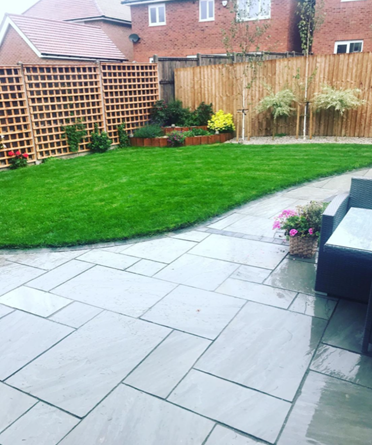 @marlow_house_redrow
Our Paving
Natural Sandstone and Limestone paving is one of our most popular paving materials, as they are both hard-wearing, stylish and of a great quality. They are perfect for outdoor paving, and can be used to enhance driveways, patios, or garden paths.
For our range of Natural Sandstone Garden paving, we provide the following products:
Indian Sandstone, which provides the same appeal as natural stone but is more cost-effective.
Sawn Versuro King Size and Sawn Versuro Linear, our more contemporary and modern paving slabs.
Fairstone Riven Harena and Fairstone Antique Alverno, which are our more traditional paving products.
For our range of Limestone paving:
Fairstone Limestone Aluri, which comes in a range of colours and is styled to suit a wide variety of properties.
Sylvern Paving has a unique colour and character, while also being incredibly strong.
Capleton Pavers, which is our more natural limestone paving.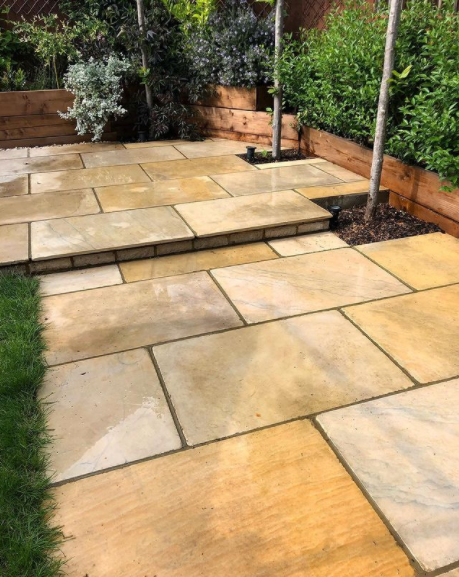 @taylorwimpey_wayford
Patio design ideas
A good patio design can transform your outdoor living space – not just in terms of making it more visually appealing but also by adding practical touches that ensure it works for your lifestyle. Get it right, and it will be like adding another room to your house.
The best garden patio ideas for your home will depend on the size and the shape of the space you have available, but there are an infinite number of ways to create a beautiful outdoor area that you will want to spend time in.
The first thing to do is to think about what you want from your patio, then look at what type of designs will incorporate the aesthetic and practical elements you need to achieve your goals.
Here are a few examples:
Covered patio design ideas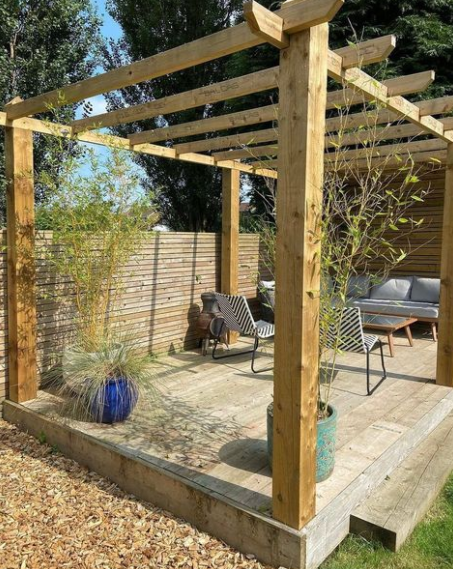 @its_a_family_life
Make your outdoor space more usable by installing a pergola to provide coverage for a patio seating area. A timber structure will provide shade from the sun and shelter from wind. Climbing plants can also be trained to grow over it, and the extra greenery will provide additional coverage as time goes on. Depending on the size and layout of your garden, pergolas can be designed to be compact and small, or large and extravagant.
If you are considering a pergola and would like some extra garden shade, consider extending the size of a pergola so that it gives more coverage over the entire patio area, and as a result encloses the space and creates extra privacy.
Small patio design ideas
There are many ways in which you can make a small patio more aesthetically pleasing, because there is no reason why you can't have your dream outdoor space in a limited outdoor area. You can either do this by enhancing it with flowers and greenery, or by installing daring designs or decorative gravel. Just because the space is small doesn't mean your imagination has to be too!
We recommend making the most of your space with furniture that coordinates with the shape of the patio, for example a long rectangular table will be difficult to place attractively in a round patio setting.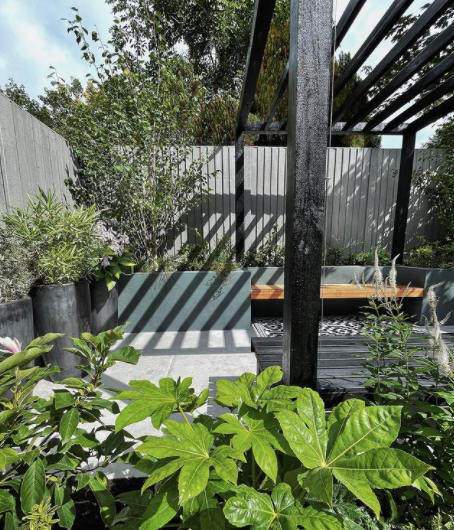 @eatlondongardendesign
Simple patio ideas
Simplicity is key, and more often than not, simple patio designs are often DIY friendly too, which means they can be affordable and easy to carry out by yourself.
Some examples of simple ways to enhance your patios are by using planters and pots, which don't just enable you to have a compact, accessible garden right outside your home, but they also look beautiful too.
Another way is by creating a space around nature that's already in place, for example by installing a wooden bench around or next to a tree on your patio. This is a simple way to enhance your patio because you are taking the natural elements in your garden and enriching them to be more aesthetically pleasing.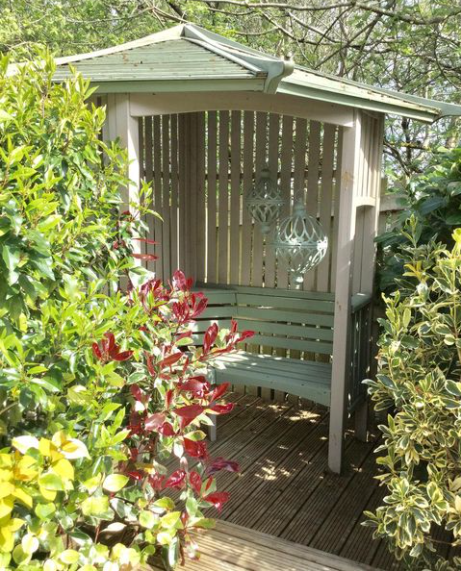 @bellwayhometorhead
Back garden patio ideas
Make your back garden patio more Al Fresco friendly by using furniture, such as tables and chairs, to enhance the area directly behind your house. You can also add a parasol to your garden furniture, which will offer a fuss-free way of providing patio shade in the back garden. Choose a design that will complement the size and shape of your garden table making sure that it is large enough to provide shade for everyone seated.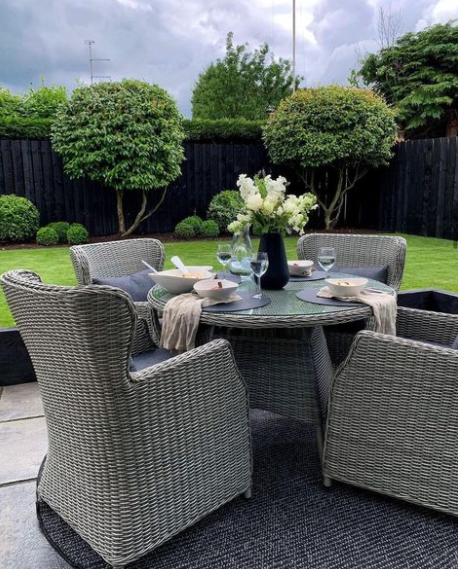 @luxuryrattan
Things to think about
Leading on from patio designs, ensure that you plan for necessary drainage. This is especially critical if there is potential for your garden to become waterlogged. In most cases, you will need to create a gradient to allow water to run off.
Poor drainage might not only damage your patio and garden, but it could also cause problems for your home including subsidence which can make getting insurance and even selling your property in the future quite difficult.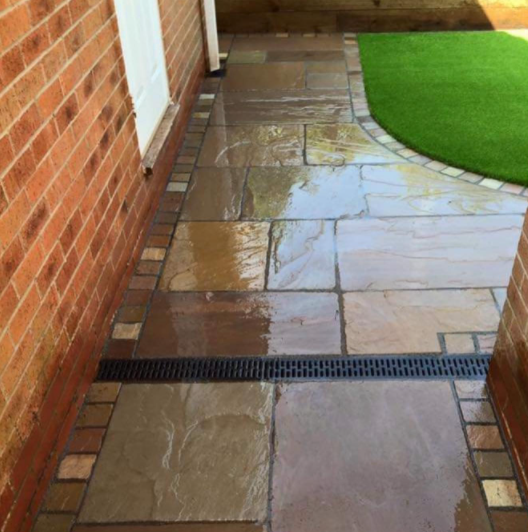 Finishing Touches
No matter which paving you have chosen or how you are going to lay it out, you will probably want to add some finishing touches.
If you are creating a contemporary paving, such as Sawn Versuro, choosing furnishings and planters etc that are made from ceramic, glass, or driftwood will look fantastic. If you are creating a traditional style of garden, with one of the classic sandstone paving options, then you might choose something more earthy, such as Oak for your finishing touches.
If you have any questions about patio designs or need further information about the products we sell at Howarth, please visit your local friendly Howarth branch.
Recent Posts
The 2021 edition of the Part L Building Regulations is due to take effect from 15th Ju

There are several reasons why you may wish to remove a radiator. Whether you want to redecorate a