Check local branch stock
The Faithfull floor scaper is designed to remove grease and dirt from workshop floors, preparation areas and shopping arcades and many other places. The steel blade is designed not to damage tiled flooring or laminates and is fitted with fibreglass...
Plastering tools are available from Howarth, we have a wide range of tools, fixings, and accessories including a wide selection of hand tools. These include plastic and metal floats, lines, scratching posts, taping knives, hawks, and much more. A recommended brand often used by a large range of our customers is Ox Plastering Tools, which are specifically designed with the plasterer in mind, therefore making it a much easier experience.
Plastering has always been a vital part of wall and ceiling preparation, as they serve many purposes throughout the process of plastering.
Plastering tools are needed to mix the plaster, store it, retrieve the plaster from the bucket, hold the plaster whilst applying it, application, such as smoothing the plaster, repairing any cracks and/or holes in the plaster itself.
For further information and expert advice regarding which plastering tools to purchase, please contact your friendly local Howarth branch.
Frequently Asked Questions
What tools do I need for plastering?
The top tools you'll need for plastering are: a plastering trowel, a steel taping knife, a joint knife, and a small trowel and square.
How to clean plastering tools?
To clean plastering tools, soak the tools in water overnight. Then, add baking soda to the water to help lift the dry plaster off the tools to make it easier for you to clean.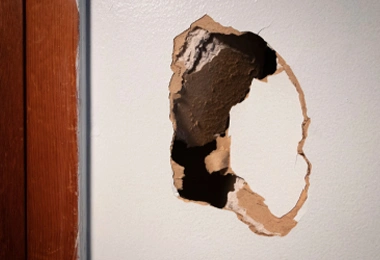 How to fix a hole in plasterboard
A guide on how to fix a hole in plasterboard and what plastering tools you will need for the job.
How to use plasterboard on a ceiling or wall
A full step-by-step guide on how to use plasterboard on a ceiling or wall.