Plaster is a soft mixture that is used to create a hard, smooth surface on a wall or ceiling. At Howarth, we offer a wide variety of plastering products, such as:
Skim finish plaster, which is a popular method used to create a surface that is smooth enough to receive a decorative finish. It comes as a ready-mixed plaster, acting as a wet adhesion making it easy to apply. It will not slump on vertical surfaces and can be easily smoothed. It will cover holes up to 3mm deep.
Plaster mesh is used to strengthen and protect your plasterwork, which is suitable for both internal and external use.
Patching plaster is an easy method of performing repair work to your existing plaster. Because of the nature of its use, it normally dries quite quickly, allowing the area to be sanded and decorated within a short period of time.
Undercoat plaster is used as part of a two-coat plaster system, and is suitable for a range of masonry backgrounds, like bricks and blocks. It also acts as a bonding plaster.
If your project requires a higher coverage, with a better impact resistance and multi-finish result, we recommend the Thistle Tough Coat.
Plastering beads are an effective method of creating neat corners when you are applying plaster to either brickwork, plasterboard, or existing plaster.
For further information and expert advice regarding plaster, please contact your friendly local Howarth branch.
Frequently Asked Questions
How much does it cost to plaster a room?
To skim a standard room, you can expect to pay between £400 to £500.
How long does plaster take to dry?
Plaster can take around 10-14 days to dry.
How much does plastering cost?
A simple skimming job in a medium sized room would cost around £400 - whereas a full plastering job may cost around £700 or more.
Can you plaster over paint?
Yes, you can plaster over painted surfaces.
How to use plasterboard on a ceiling or wall
A guide on how to use plasterboard and what plastering tools you will need.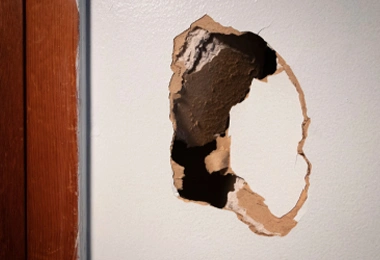 How to fix a hole in plasterboard
A guide on how to fix a hole in plasterboard - find out more.